Greetings citizens!
On the last of February, the gates will open to this years first Sci Fi convention hosted by
Scifiworld.se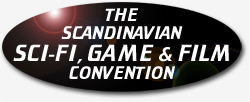 It will be held at Stadionmässan in Malmö (stadiongatan 25) February 28th - 1st March.
We, the Nordic Legions (Nordic Garrison and Nordic Base) will be present the entire weekend with our Star Wars goodness as usual, and we welcome you to join us.
Please come by and say hi and take a picture with The Dark Lord Of The Sith himself, Lord Vader. Or why not his son, who bravely blew up an entire battle station, Luke Skywalker!
(They both have very cool looking laserswords)
Or if taking a photo isn't enough for you and you desire more, you are welcome to blast our troopers to blitz.
(It's ok, they are thick headed)
This year we will be collecting money to ECPAT, a global network of organisations working together for the elimination of child prostitution, child pornography and the trafficking of children for sexual purposes. It seeks to ensure that children everywhere enjoy their fundamental rights free and secure from all forms of commercial sexual exploitation.
We are looking forward to meet you, it's your destiny!