I've gotten a few questions about how to get an Endor trooper costume, so here is my quick introduction to it. A lot of detailed information can be found at the
Rebel Alliance Infantry Detachment Return of the Jedi forum
, and I recommend everyone doing the costume to also make a build thread there.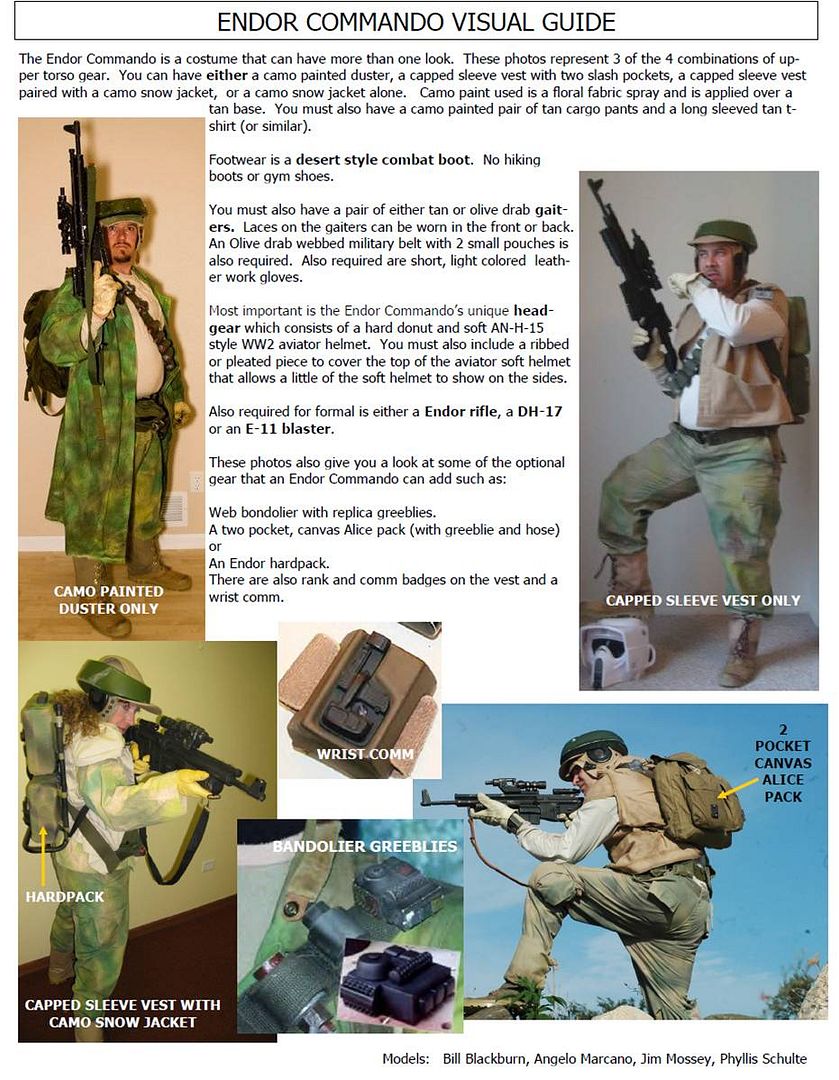 Starting from the bottom and going up you need (the costume standards are in italics):
Boots
Boots- "Desert" style combat or hiking boots. Canvas/Natural upper Target Color: "Sand" FS 33531/RAL 1011 "Brown Beige"; Molded sole, with thick "lug" tread. The sole continues up over the front ½"/12mm of the toe. The original "Sierra" brand boots are long out of production; however there are Israeli Scout Commando Boots that are very close in design and can be either purchased or used as a reference.
I used a pair of boots of the brand Palladium, they are readily available both in actual shoe stores and online, bought my pair at Zalando or Brandos. The important thing is the thick sole and the cap that goes over the toes.
Gaiters
A tube of heavy Cotton/Natural fabric starting from the bridge of the foot (covering most of the laces) continuing up past the boot top to slightly below mid-calf. 5-8 sets of eyelets (depending on your measurements). No clear photos of the laces have been found yet; most likely surplus olive-green "para-cord" was used. Color: The originals appear to have been made from a tan or sand material, but were so heavily dyed and painted to appear used they look dark brown or olive when actually seen on screen.
Basically a tube of fabric with eyelets and laces.
Pants
Cargo style pants (commercial BDU in rip stop or twill is acceptable-no sewing modifications needed) spray painted in a camouflage pattern
This is the easiest part, available in most military surplus stores. The base colour needs to be khaki/beige. You will add the camouflage paint yourself.
T-shirt
A beige/tan/sand colored long sleeve t-shirt
The t-shirt shouldn't be ribbed. It's important to keep the colours light, it's should be lighter than light Brown, but darker than ecru. If you order online it's safest to see if they have "sand" as a colour option.
Belt
Olive Drab Belt with pouches
It's basically a military style belt, no special requirements on the buckle. The pouches should be military green and can be picked up at military surplus stores, there should be at least pockets and they can be of different sizes.
Upper body
For the upper body you can have four different choices; 1. jacket, 2 vest, 3 duster/trenchcoat, 4 jacket +vest.
A camo painted snow jacket - camo paint must be applied to a tan base. Since snow jackets are by nature white in color, you must dye jacket tan first.
Originally actual Swedish military snow jackets were used, but they are a bit hard to come by even in Sweden these days, and there are substitues. If you get a snow jacket you need to remove the buttons and dye it before adding camo pain, I also had to shorten my jacket quite a bit. I teadyed my jacket.
Accurate capped sleeve vest with slash pockets and padded applique on right upper chest.
If you go for the vest option you will need to sew it yourself, or find someone to sew it for you. A pattern and instructions on how to do it are available
here
. The vest is beige, and clearly in another colour than the t-shirt.
A camo painted trenchcoat - camo paint should be applied to a tan trenchcoat, if tan trenchcoat/lab coat can not be obtained, you will have to dye trenchcoat/labcoat tan first and then camo paint.
The easiest option for this one is probably to find a long labcoat and dye it.
The fourth option is simply to wear the capped vest over the snow jacket.
Camouflage paint
You will need to do all the camo paint yourself, there is no finished camo fabric that matches what was used. A common mistake in my point of view is to use too much quite light greens. The colours that I have used for my camo paint are: Fosco DDR Green, Fosco Mud Brown, Fosco Pale Green (only accents), Fosco Olive Drab, Fosco Olive. The camo paint shouldn't totally cover the base tan colour of the fabric of the pants and jacket/trenchcoat
Helmet
Helmet consisting of an AN-H-15 cloth helmet (or replica) with a ribbed strip on the top, a replica rigid outer ring, and cloth bill
The soft, cloth helmet was based on the WW2 AN-H-15 flight helmet. It's been so heavily modified though that I recommend either making your own replica or buy one. I own an original AN-H-15, for my A-wing pilot, and they are also notoriously small in size. There is a pattern for the soft parts
her
, it runs very big though. The plastic ear cups are available to buy by the same guy that makes most of the hard "donuts". Link further down.
The hard part of the helmet is generally referred to as the "donut". There is an ongoing run of these at the Rebel Legion forums. These helmets are bit large compared to the original, screen used helmets, but they are accepted and I would say even recommended since they are much better than other readily available options. The helmet comes assembled so you only need to cut out the hole for your head and paint it. The cost at the moment is $78 + shipping. Sale thread for the donuts, and ear caps for the soft helmet is
here
Gloves
Short, light-colored leather work gloves
I have extremely small hands so it was hard for me to find a pair of gloves, in the end I found a pair of leather gardening gloves.
In order to get approved in the Rebel Legion you also need a gun, and for that you have three options (pick one)
1. E-11
2. DH-17
This is the basic rebel trooper blaster, it can be used for all varieties of rebel troopers. The easiest option is to buy the nerf gun version, sand down the lettering, cut off the "charger" and replace it with a D-ring and paint it.
3: Endor rifle
This is the cool option (I think). There is an ongoing run for parts that can be added to a base airsoft gun to mod it into the Endor rifle
here
.
The above are the required items. The Endor trooper is really fun though since you can add and customize it a lot. Some recommended items are:
1.
Web bandolier with replica accessories
Here
is a quick guide to make your own bandolier with greeblies.
2.
Canvas military-style backpack-no nylon packs-screen accurate is two pocket pack.
My soft backpack is a Czech military backpack, bought from a military surplus store.
3.
Endor hardpack
This one is trickier, since you need to make it yourself, but
here
is a detailed build thread on an Endor hardpack.
4.
Vest accessories such as rank badges and wrist comm.
Ongoing run for the wristcom is
here
The Endor trooper is a fun, and very comfortable costume. It works best when there are more than one troopers out there, but since the troopers seems to be quite highlighted in the Battlefront game it's getting more recognition of itself as well.