Ok, some history research is coming up.
Some of you mentioned
WTF
armors in my
introquestion
thread, and took a quick glance on his facebook group. At first looks he focused more on kits for kids, and he takes a lot of breaks. Also there's not much information about his work except from his FB page. Whitearmor got
one
build thread (for adult kit). So I pretty much waved him off.
The armor
While waiting for answer from TM, I took the liberty to dig deeper into this Walt guy. He did make a thread on WA december 2014, announcing that he got permission from a "know armor maker" to make trooper armor, partial from his cast. The rest of the parts would be from a unknown cast.
Source:1
Further down that thread he adds a
picture of his ab plate
, and it looks good. And a coulple posts later
troopermaster
comments that it looks like one of his earlier casts, which is in a way good. A legend like TM made something close to this, can't go wrong. It was later by a staff member confirmed that the cast got nothing to do with TM.
---- I mentioned one build thread, and
here it is
. In page two you can see the armor. Yet to be finished.
But in this thread someone calls out Walt for copying APs faceplate.
This is a AP recast face plate, all suction holes and irregular surface inside eye sockets uncut material match AP helmet 100%

Mark (AP)
Later on it comes out that he is using Ginos V2 cast for the face. This is also mentioned in his sales posts on FB;
Gino lid. 200. Let see how long it lasts - Walter
7. mai kl. 04:35
That's pretty much what I got on the armor. Abs I guess is from that known maker (Gino?) and some parts from unknown cast. The fact that TM noticed the ab as similar to one of his older builds, can't be all bad?
Now on to the lid.
The bucket
I'm not certain if he is using Gino molds on the armor, but the bucket is certain is Gino V2's. Walt says this about the matter:
Hi !! I can't recast the mold the way Gino made it. But we have a great armor tree that a lot of people put a lot of time it to it. And did an amazing job to...
Source:2
Also he announces that he got his hands on the Gino V2 mold
here
.
So off to find out more about the Gino v2 mold. Starwarshelmets.com were a great source for this. The information I extract from there is that the Gino V.2 replica utilizes the faceplate and back/cap of the Brian R helmet and the ears from the Dave M helmet. Also Gino where the only one that
formed it from non-cleaned up, undamaged, and non- restored moulds of the back/cap, faceplate, and ears.
You can also see the bumps on the cap, just like RSs 1st gen mold.
Gino ANH V2 stunt
What really stunned me were the comparison of the Dave M helmet and Ginos V2: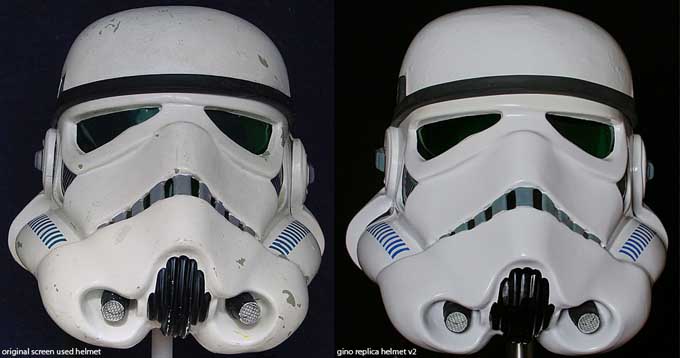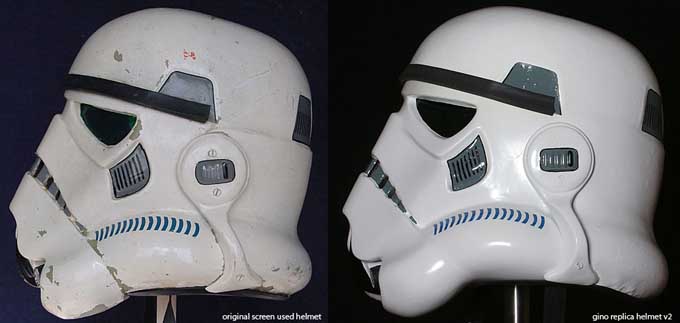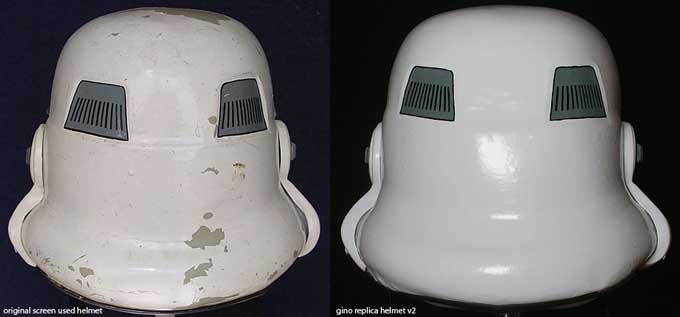 Gino did a pretty darn good job. And if this is the mold Walt is using, that's must be pretty good.
But what he have done more to the mold is uncertain, but here's a picture I snagged from his FB group
https://fbcdn-sphotos-b-a.akamaihd.net/ ... 345bba3d13
So what's the deal with WTF? Is he a underdog maker that makes kits which won't get 501 acknowledge because of the unknown parts in his armor?
Sorry for the long rant, but there's so little information about him vs the other makers out there.